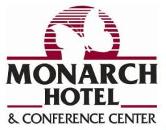 Monarch Hotel & Convention Center
Clackamas Town Center – Clackamas, OR
Please click here for reservations to the Monarch Hotel and Convention Center for the 2018 PNKCA Convention.
Guests may also go to their site (www.monarchhotel.cc) and use GROUP code:  PNKCA
Guests need to be sure to enter check-in and check-out dates before the group code or it will say no rooms are available.
Special group rate of $119.00 a night excluding taxes and fees if reserved by 5/5/2018
If you prefer calling in your reservations, please call either 503-652-1515 or 800-492-8700.  This 800# goes directly to the hotel.
Monarch Hotel & Conference Center
12566 S.E. 93rd Ave.
Clackamas (Portland South), OR 97015
Thank You To Our Supporters!
I